North Redondo Beach
It is no secret that North Redondo Beach real estate has skyrocketed over the last few years. In past blog posts, I have referenced countless sub-markets and asset types gaining big value in North Redondo. Improving school districts, easy commute to greater Los Angeles, and affordability, has attracted home buyers with willingness to pay more and more to get into this area.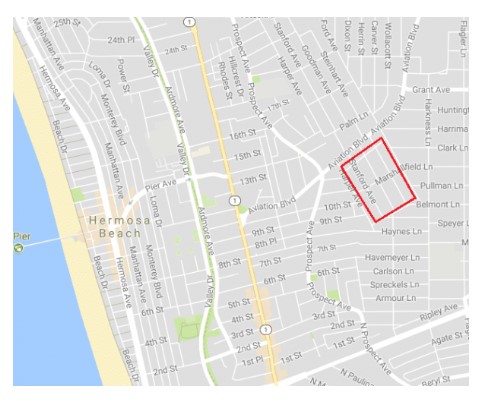 The Golden Hills sub-market, known for its "tall and skinny" homes, is popular for access to the fabulous Jefferson Elementary School. Last year, I wrote a blog post about new construction prices surging in a small sub-market within the Golden Hills area. This area bucks the trend of all tall and skinny homes sitting on 2,500 sq. ft. lots and contains highly desirable double lots of about 5,000 sq. ft. This small sub-market within Golden Hills is south of Aviation between Clark Lane and Carmelita Avenue with only four small stretches of homes on Stanford Avenue, Goodman Avenue, Steinhart Avenue, and Ford Avenue.
Let's check out how new construction sales have done since then…
Large New Construction Homes
The sale of 1107 Goodman Avenue broke a new construction record (for this small sub-market) selling at listing price of $1.89 million. Only eight months earlier, 1114 Stanford Avenue set the high watermark price at $1.725 million. That is a $165,000 premium and almost a 10% jump in a short, eight month time period.
Even more interesting, and incredibly bullish for this sub-market was the sale of  1115 Steinhart Avenue. This was an older home (old in comparison to new construction) built in 1997 but similar in size. It was about 300 sq. ft. smaller than the two new construction sales, but it sold for more than the $1.725 million sale on Goodman Avenue only nine months earlier.  This sale also broke the price per sq. ft. record for a large-sized home in this sub-market.
The Impact on Smaller Homes
The sale at 1114 Goodman Avenue with over 1,800 sq. ft. seemed like a deal asking $1.225 million in late 2017. However, the real estate market did not see it that way. The listing was cancelled after cutting the price to $1.149 million and 102 days on market. This seemed odd with all the new construction records being set, but sometimes the market needs time to catch up.
1114 Goodman Avenue re-listed in spring at the same cut price of $1.149 million and garnered multiple offers selling at $1.165 million in only six days. A shrewd buyer could have almost assuredly negotiated the price down on the original listing to around $1,125,000 and scored $40,000 in equity.
Another interesting sale was 1219 Ford Avenue. This 3-bed, 2- bath, 1,344 sq. ft. home asked $999,000 and closed after a short listing period for $1.028 million in December 2017. Just last week, a similar home closed at 1209 Steinhart Avenue. This 3-bed, 2-bath, 1,121 sq. ft. home asked the same price as Ford Avenue at $999,000 hoping for a similar bidding war and sale result. This home had more appeal than Ford Avenue from the inside out, but it was smaller with a less functional floor plan and the third bedroom was an unpermitted garage conversion. That didn't stop buyers. It received over seven offers and sold for $1.095 million, blowing past any regard for the Ford Avenue comp six months earlier.
Conclusion
New construction sales drive existing homes sales. This is clearly demonstrated with the 1999-built 1115 Steinhart Avenue sale trading at new construction prices not long ago.
Furthermore, the rise in existing home sales has now driven smaller existing homes. The market missed a wonderful opportunity with the 1114 Goodman listing but rarely does it miss twice.
This trend is further emphasized with 1209 Steinhart blowing away the 1219 Ford Avenue comp by $67,000 in a relatively short period of time.
The secret is out on this small sub-market of Golden Hills! The numbers prove it.
---