While home buyers wait for housing prices to go down during the holidays, this week I'll make a case for why there should be continued home growth throughout the South Bay. I'm not a professional economist or real estate statistician, but I do look at related industries that have historically impacted the local housing market in a positive manner.
Jobs
Local Commercial Development
Jobs
Jobs drive residential real estate. The Bay Area housing market is a prime example. Home values have been exploding over the past decade due to the growth of tech and higher paying jobs. As home buyers were priced out of Silicon Valley, real estate agents in Oakland and other surrounding areas began to see an exponential growth in new home buyers and housing prices.
The Greater Los Angeles is no stranger to tech these days. With companies like Google, Facebook, and Snapchat moving in, Venice and Playa Vista have been dubbed "Silicon Beach". With housing prices continuing to increase to historic levels in those areas, the South Bay housing market could be on the verge of experiencing a very similar trend to that of the surrounding cities of Silicon Valley.
Based out of Venice, Snapchat employs over 330 employees and recently filed confidentiality for an IPO which some predict could reach a valuation of $40 billion. Other similarly valued tech companies like Airbnb, Twitter, and PayPal have over 21,000 employees. As these businesses continue to grow and companies like Snapchat possibly move to the public market, we should see that number of employees swell. Don't agree? Check out this article on Snapchat considering renting 400,000/sf of Santa Monica business park space (deal being negotiated by a few South Bay residents you might know).
How Jobs Relate to the South Bay Housing Market
The campus in Playa Vista currently houses Google, Yahoo!, YouTube, and other growing companies. To add to that, Google inked a deal this past summer to take over the old Spruce Goose Hangar that consists of 319,000 square feet.
Venice, Playa Vista, and Santa Monica housing markets are seeing the biggest benefit of big tech moving in. But, if we take a quick look back into the growth of the housing markets in close proximity to Silicon Valley, it only makes sense that the South Bay is on the verge of another spike in housing prices. Oakland is a 20-minute drive from downtown San Francisco and a 45-minute drive from Silicon Valley. Playa Vista is only a 20-minute commute to Manhattan Beach, and only a 25-minute drive to Hermosa and north Redondo Beach…I believe the South Bay stands to benefit in a big big way as high paying tech jobs will continue to drive growth as big name companies move-in and expand nearby. Combine that with a Snapchat IPO and continued growth in the greater L.A. job market, and I think you have a nice recipe for increased home values.
Local Commercial Development
Do you think the Manhattan Beach Metlox and Shade Hotel helped growth in downtown Manhattan Beach and the desirability to live here? I do. What about Plaza at El Segundo or The Point in El Segundo bordering Manhattan Beach? I think it is fair to assume all of these large scale developments contributed to the local economies, resident well-being, and the overall desirability to live in Manhattan Beach and the greater South Bay.
Well, there is more proposed development coming.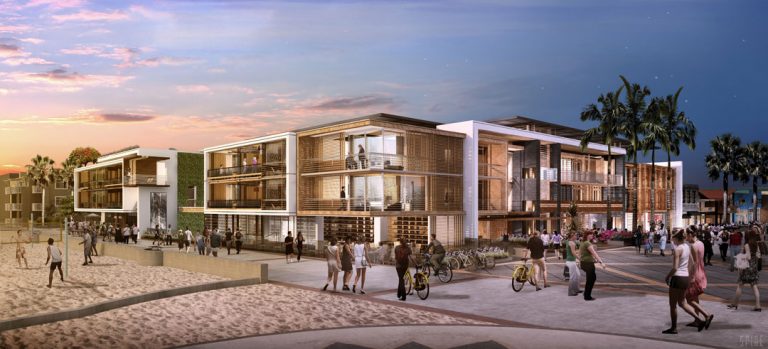 The beautiful Strand & Pier will be a new 111-Room full service boutique hotel with five restaurants, rooftop pool, and public roof terrace looking to benefit downtown Hermosa Beach. It will replace the northwest corner of Pier Avenue where older buildings that house businesses like Killer Shrimp, The Mermaid, and The Deck (former Poop Deck) and should be a boom to the local economy.
Ground has broken on a 30-room named H2O hotel on the corner of 14th and Hermosa Avenue, and is set to open as early as fall of 2017. The potential influx of hotel rooms, new restaurants, new buildings, and a cool scene could attract more home buyers to Hermosa Beach and the surrounding area.
The enormous 800-pound gorilla is The Waterfront in Redondo Beach. The proposed project by locally based CenterCal is the redevelopment of the Redondo Beach Pier and Waterfront. The Waterfront would entail a $400 million development over 36-acres and would bring more than 500,000/sf of buildings including retail, restaurants, public market, 700-seat movie theater, pedestrian bridge and boardwalk, creative office space, and a four star boutique hotel. It recently received approval by the city council in a heated vote of 3-1, and now moves on to gain approval from the coastal commission. If you have not seen the nearly 12-minute video, it is worth a watch: https://thewaterfrontredondo.com/
Commercial Developments Effect on South Bay Real Estate
If the Waterfront were to be approved, it should resonate through all of the beach city economies and raise interest levels of prospective home buyers to the South Bay. My bet is that it would significantly impact Palos Verdes as well, not just as fabulous discretionary destinations close to The Hill, but also for beach residents or growing millennial families to seek refuge from the commercial, restaurant, and hotel scene of the beach cities.
Not only would Palos Verdes benefit from The Waterfront as a result of positive outcomes and unintended negative outcomes, but the growing reputation of Terrenea as a top destination for vacationers and "staycationers" alike are a boon for the area. Throw in Trump National Golf Course being thrown into the spotlight after the recent elections, and those P.V. commercial properties will continue to grow.
The back half of The Hill should also benefit from the $100 million project to refresh the aging Port O' Call in San Pedro on the port of L.A. It is set to be renamed the San Pedro Public Market and estimated to open in 2020.
Conclusion
The continued job growth of high paying tech positions and expansion of Silicon Beach should benefit the South Bay communities greatly. A rising tide lifts all ships, and the South Bay offers a lifestyle unique to itself that will attract new home buyers. If you account for the major commercial developments coming to Hermosa, Redondo, and the back part of Palos Verdes/San Pedro, the area is primed for continued, steady growth in the local economy and housing market.
It's Your South Bay. Own It.
Sources:
https://www.bloomberg.com/news/articles/2016-11-15/snapchat-said-to-file-confidentially-for-initial-public-offering
https://www.forbes.com/sites/liyanchen/2015/08/11/the-most-valuable-employees-snapchat-doubles-facebook/#93b8eb8f7545
https://playavista.com/the-campus/
https://www.dailybreeze.com/business/20160320/after-name-change-h20-hotel-developers-pray-for-good-vibes-in-hermosa-beach
https://www.dailybreeze.com/government-and-politics/20161019/redondo-beach-denies-activists-challenge-of-centercal-waterfront-project
https://www.dailybreeze.com/government-and-politics/20160722/heres-a-3d-look-at-centercals-redondo-beach-waterfront-overhaul
https://www.latimes.com/business/la-fi-ports-o-call-renovation-20160302-story.html
https://beaconecon.com/products/employment_report
---