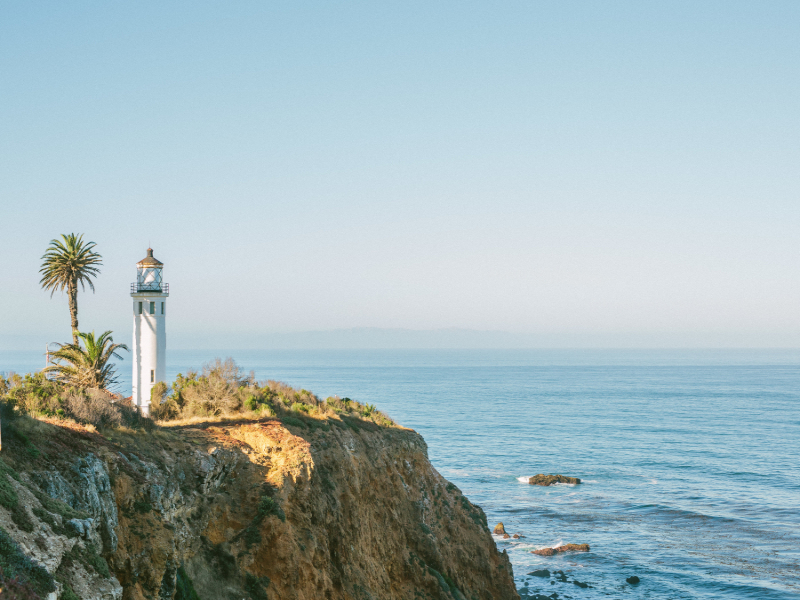 Beautiful bluff-top West Palos Verdes in Rancho Palos Verdes is coveted by many for the immense luxurious estates and incredible panoramic views. From the homes in this neighborhood, one savors unmatched ocean and Catalina Island vistas.
West Palos Verdes stretches gracefully along the Pacific just up to the iconic Point Vicente Lighthouse, state park, and interpretive center, just at its south border. From a boundary perspective, there are no commercial businesses within West Palos Verdes. It is, however, conveniently located between beautiful Lunada Bay with its plaza filled with restaurants and shops, the Golden Cove Center with Trader Joe's and a Starbucks, and the Palos Verdes Drive South area with all the conveniences of Trump Golf Course, as well as the beautiful Terranea Beach Resort which is filled with restaurants, swimming pools, cocktail lounges and a great boutique. Throughout West Palos Verdes, there are walking and hiking trails meandering along the bluffs and coastline.
Along the southern most point are newer luxury homes as well as older tract developments. The section between the Ocean and Palos Verdes Drive include the palatial homes along Marguerite Drive and surrounding area, and a subdivision of large newer luxury homes known as the Oceanfront Estates, one of the premier oceanfront communities in the South Bay. These private custom homes offer large open floor plans and high vaulted ceilings with such amenities as two levels of living space with the entertaining areas and a lower level for bedrooms and pool entry. Residents here enjoy nice large lots between half to three-quarters acres and expansive square footage usually between 4,000 to 8,000 square feet of living space. Most of the homes offer delightful ocean and Catalina Island views with outstanding sunset vistas.
On the East side of Palos Verdes Drive West is an older development of homes called Point Vicente. This neighborhood is very small, but every home has ocean views from the common areas and backyards.
As a whole, between the two areas of West Palos Verdes homes range between about 1,700 to about 8,500 square feet. Prices vary just as greatly from $1,300,000 for an older 3 bedroom/2 bath to a newer estate construction at close to $8,000,000. The mdeian price of homes sold in this area, however, is about $1,650,000.
Children here attend Point Vicente Elementary School which is located in this neighborhood. Palos Verdes Intermediate School is the middle school nearby, and high school kids choose between convenient Palos Verdes High School or head up the Hill to Palos Verdes Peninsula High School.