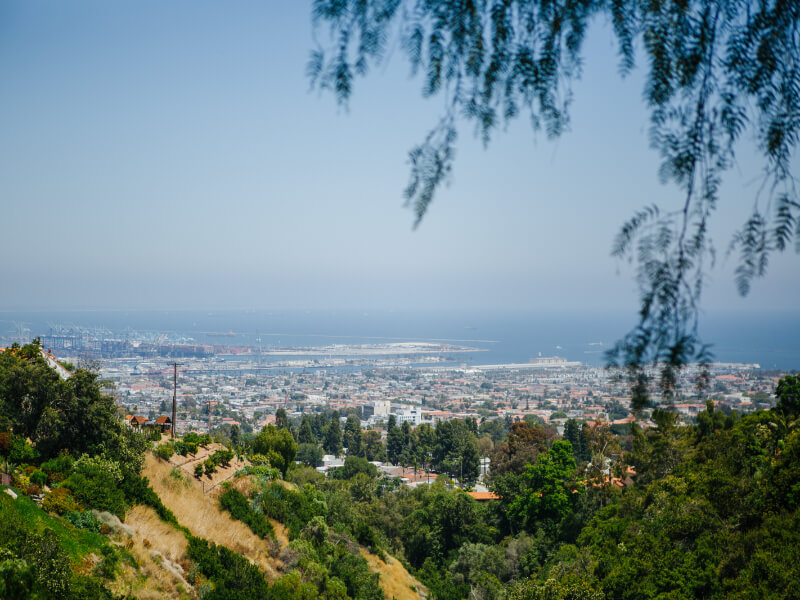 The beautiful La Cresta neighborhood located in Rolling Hills Estates and Rancho Palos Verdes is bordered by the gated city of Rolling Hills and the Palos Verdes Land Conservancy. Owners here live amid lush landscapes and oceans views from the sunny hillside which draw them here. La Cresta real estate is made up of multiple micro-neighborhoods, many of them gated developments, along Crest Road between Hawthorne Boulevard and Crenshaw Boulevard.
Vantage Point is a gated development with newer luxury homes. These homes are set on half acres lots with large homes in Rolling Hills Estates. This development is centrally located on the Palos Verdes Peninsula allowing easy access on and off the hill.
The equestrian style developments set in Rolling Hills Estates are the Rolling Hills Country Estates and the gated The Ranch community. Estate homes line the streets in this gated community that weave through wooded neighborhoods with a rural feel. The houses in this community sit on half-acre lots and typically are 2,500 to 4,000 square feet.
In Rancho Palos Verdes, the residents of the semi-gated Island View community relish their fantastic oceans views amid beautiful landscapes and plunging canyons. The estate size tract homes sit on 1/3 to 1/2 acre lots and range in size from 3,000 to 5,400 square feet of living space.
A newer development, Ocean Terrace, boasts large custom estate homes that are approximately 4,000 to 8,000 square feet. These homes are built on half-acre lots and often have Catalina Island and ocean views. Homes in the communities of Hillcrest Manor and Hillcrest Meadows are around 5,000 square feet for larger homes, or 2,500 square feet for smaller homes are typically in the Traditional or Cape Cod style. Here gorgeous landscaping and towering trees envelope the charming neighborhood.
The recently developed Sea Breeze community within Rancho Palos Verdes offers large luxury homes between 3500 to 4500 square feet on 1/3 to 1/2 acre lots. Residents are drawn here for the incredible panoramic canyon and ocean vistas.
Finally, some older communities, Middleridge and Oceanaire, located at the east end of Crest Road in Rancho Palos Verdes and the homes are built in the contemporary style. These large homes are typically 2,000 to 4,000 square feet and built on half acre lots.
La Cresta single-family homes range in price from $1,300,000 to about $4,500,000. There are also townhome offerings typically around $800,000 for 3 bedrooms/2 bathrooms.
Residents here enjoy many outdoor activities nearby. The community's two parks called Highridge Park and Del Cerro Park at opposite ends from one another are fantastic. Del Cerro is great for hiking, and is part of the Canyons Ecological Reserve. Meanwhile, Highridge Park is a 10.5 acre of recreational space with soccer fields, softball and baseball fields, a large playground and running track.
Students attend the Palos Verdes Unified Schools; Vista Grande, Monetmalaga Elementary, or Soleado Elementary, Ridgecrest or Palos Verdes Intermediate School, and choose between Palos Verdes High School and Peninsula High School. Be sure to check your school boundaries as the boundaries can get confusing! There is also St. John Fisher's private elementary school in this area.