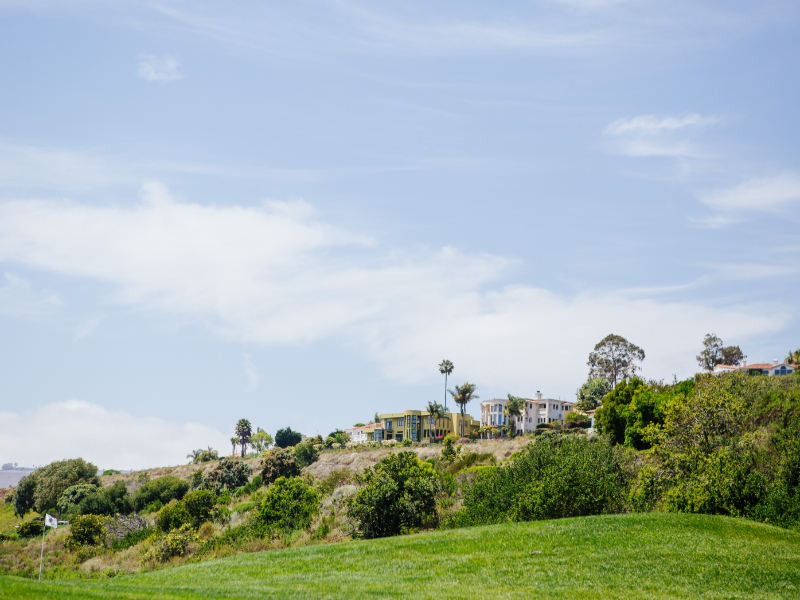 The lovely area surrounding Los Verdes Golf Course in Rancho Palos Verdes has been coined Country Club as per its proximity to the golf course. This small section is bound by Hawthorne Boulevard to the east, Calle De Suenos to the west, and expansive Hess Park to the north. The area below Hawthorne Boulevard and Crest Road is known as Monte Verde, and the area to the east of Hawthorne Boulevard is known as the Monaco area. Other neighborhoods include Alta Vista.
Most of the homes in Monte Verde, Monaco, and Alta Vista are tract homes that are situated around the golf course and intertwine down the hillsides. The development here was done in the 1960's and 1970's, yet many homes are between 3,000 to 5,000 square feet. Typically, homes have ocean views and often golf course views. There are also condo developments here that include Seagate and Island View, as well as single-family homes. Prices for single-family homes typically range from about $1,200,000 for a 4 bedroom/3bath to about $3,000,000 for 5 bedroom/6bath. Square footage varies for these properties are typically between 2,500 to 6,000 square feet. The aforementioned condominium/townhome properties range from 800 square feet for a 1bedroom/1 bath and 1,400 for a 2 bedroom/three bath, while a select few can push closer to 2,500 sq ft. Prices for condos range from right at $275,000 to about $1,000,000.
Like its neighboring communities, commercial development in this area is sparse. There is a Ralphs supermarket nearby yet the next closest shopping area is Golden Cove center at Hawthorne Boulevard. Despite the lack of commercial entertainment, there are two great parks in this neighborhood Hess Park and Ryan Park, better known as Rocket Ship Park. Hess Park is one of the best parks in the city. It is well groomed with lots of amenities like baseball and soccer fields, playgrounds with great play structures, picnic areas, walking paths and a thriving community center. The lower park has gorgeous panoramic ocean and Catalina Island views, volleyball courts, and more walking paths. Dogs are welcome in the park, but they do enforce the leash laws, likewise, at Ryan Community Park. Ryan Park is a fantastic 10 acres with fun play structures. The wide-open field area is great for many sports activities. It also has a wonderful community center, tot lot and designated picnic areas. Beautiful trees surround this park, yet they don't block the picturesque ocean views!
Locals here enjoy quick access to the award-winning Los Verdes Golf Course designed by Billy Bell. The well-known course is considered a great value especially considering its insane ocean views and gorgeous surroundings. The driving range and practice facility have just undergone a renovation, and the challenging par 71 course is still putting even the most patient golfers to the test.
Children here attend the highly rated Palos Verdes Peninsula School District-run schools for public school. Young children attend the Pointe Vicente Elementary and Ridgecrest Intermediate for middle school. The Country Club area is quite centrally located about half way between the two High schools, Palos Verdes High and Peninsula High School.