The South Bay is unquestionably huge.
Depending on how you calculate the boundaries of the South Bay, it is over 100 square miles with a population of over one million people.
How do I determine a South Bay city or neighborhood? If the Daily Breeze covers it, then that is enough to be included in the South Bay.
Many of you know the focus of the blog is normally Palos Verdes, Redondo Beach, Hermosa Beach, and Manhattan Beach.
For some readers, the blog's market coverage is too narrow, and for others, it is too wide. For me as a writer and real estate broker, focusing on these four cities is what I can handle without stretching myself too thin and gives a good cadence of different areas and topics.
That being said, our agents' business here at Manhattan Pacific Realty, as well as mine, goes far beyond the four cities covered in this weekly blog. And, if you only follow Palos Verdes and Beach Cities real estate data, then sometimes you lose that breadth of real estate knowledge needed beyond the blog's normal "four city" South Bay bubble.
Put simply, the properties covered in my South Bay real estate blog are some of the most expensive real estate in the country, and only a small glimpse into South Bay real estate.
It is easy to get lost in the $1 million plus range and lose sight of more "affordable" areas nearby.
So for this week's blog, I am going to cover four areas not too far that can offer some awesome real estate value in areas right next door…and, throw in a couple fun restaurants that are delicious as well.
Rolling Ranchos Neighborhood in Lomita
I would not be surprised if some South Bay residents have never heard of Lomita. Yes, Lomita is a city in Los Angeles County, and yes, it is firmly in the South Bay.
Lomita is sandwiched between Torrance, Rolling Hills Estates, and Harbor City, with Pacific Coast Highway cutting right through the middle.
Check it out on Google Maps: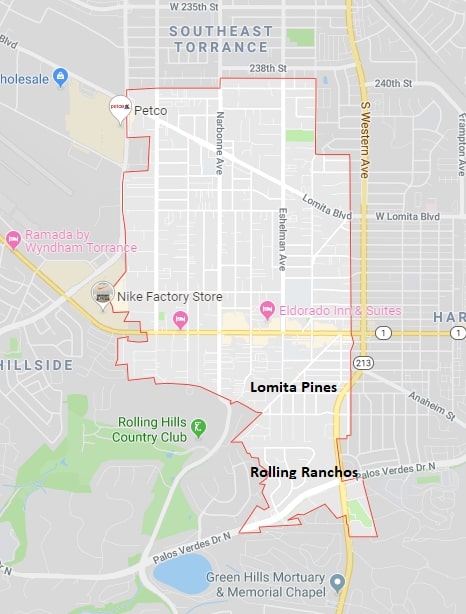 Rolling Ranchos is widely considered one of the nicest pockets of Lomita consisting of single-family homes and only accessible from Palos Verdes Drive North.
26839 Via Desmonde

4 bed, 2 bath, 2,322 sq. ft., 9,948 sq. ft. lot

Price Per Square Foot: $415
This is a charming four bedroom home that sits on a massive 10,000 square foot lot with a huge backyard. This home was purchased for under $1 million, but gives off the feeling as if you were actually in the expensive neighboring Rolling Hills Estates market where the median price home is around $1.55 million.
26728 Rolling Vista Drive

4 bed, 2 bath, 2,361 sq. ft., 9,505 sq. ft. lot

Price Per Square Foot: $355
Another sizable four bedroom home that has panoramic city, mountain, and ocean views for only $840,000. Furthermore, the home was had for $355 a square foot. Where else in the South Bay can you land fabulous views for that price? To put things in perspective, Palos Verdes to Manhattan Beach has a median single-family home price per square foot of about $730 and that may not get you a view.
If you want even more value skip up a couple blocks to Lomita Pines and land a fabulous little starter home like the ones below:
26315 Monte Vista Ave

3 bed, 2 bath, 1,407 sq. ft., 7,366 sq. ft. lot

1747 259th Street

3 bed, 2 bath, 1,142 sq. ft., 4,993 sq. ft. lot

26365 Eshelman Avenue

3 bed, 2 bath, 1,913 sq. ft., 10,322 sq. ft. lot
I know again you are probably wondering…what about the restaurants?
Fear not as there are great eating options nearby Lomita. King Poke is a delicious spot that lives up to compete with Redondo Beach's Jus Poke. On top of that, Gaetano's is an Italian food institution just down the road that bred the owners of Bettolino Kitchen (the same extended family runs both).
Additionally, Lomita is legendary for Japanese izakaya, sushi, and yakiniku dining. You'll want to check out places like Hikari, Okane Umi, and Tamaen if you are in the area.
Walteria Neighborhood in Torrance
Walteria is another relatively unknown to a lot of South Bay beach residents (although it is likely that Palos Verdes residents know it very well).
It is a darling neighborhood sporting super cute and affordable homes with an amazing elementary school.
Fun fact: My wife attended Walteria Elementary and later became the valedictorian at Peninsula High School (humble brag!).
Thankfully, I somehow convinced her to marry me with my streets smarts because I just now spelled it "valid ictorian" before autocorrect came to my rescue. Yikes!
24236 Ward Street

3 bed, 2 bath, 1,484 sq. ft., 5,983 sq. ft. lot
Let's talk about an adorable three bedroom home. This home has 1,500 square feet of living space with an amazing backyard that sits on a 6,000 square foot lot. Similar North Redondo homes like this would go for over $1 million easily and likely need a lot more work.
24457 Park Street

4 bed, 3.5 bath, 2,499 sq. ft., 3,301 sq. ft. lot
This Park Street home is an alternative to tall & skinny homes seen frequently in the Golden Hills sub-market in Redondo Beach. With many four bedroom North Redondo tall & skinny homes trading between $1.1 and $1.2 million, this Walteria tall & skinny home offers about 400 square feet more of living space and 800 square feet more in lot/backyard space. This home was sold at the ultra-low price of $950,000 and at only $380 per square foot. Another hard to beat option!
There are also various income property options for $1.3 million or less in Walteria where you can live in one unit and collect rent from the other. It is one of my favorite places for owner-user income property investments.
Two other neighborhoods nearby worth checking out are Hillside and Country Hills. Both of these neighborhoods offer similar pricing but different/fabulous offerings within this great pocket of Torrance.
Walteria adjacent is the ultimate comfort food destination with "the OG" Mongol King that will give Big Wok in Manhattan Beach a run for its money. Not to be left out, Lampost Pizza with extra sauce might be the best in the South Bay…watch out Paisanos!
Del Aire Neighborhood (West of the 405) in Hawthorne
If you are not familiar, Del Aire is a neighborhood in Hawthorne that sells at a premium due to much of the area feeding into the highly desired Wiseburn Unified School District.
If you can snag a home west of the 405 in the corner of the 405/105 to the north and east, and El Segundo and Aviation to the south and east, then it is a fabulous option just outside of the beach cities.
The interesting part about Del Aire is that while it is Hawthorne P.O., it is actually unincorporated county property so you follow County of Los Angeles building codes. This is the perfect opportunity for those who want to get crazy with remodels, additions, or go for their dream accessory-dwelling unit (ADU).
5355 W. 124th Place

3 bed, 2 bath, 1,447 sq. ft., 5,118 sq. ft. lot

Price Per Square Foot: $573
As you can see, there is not much to explain here other than a nice three bedroom home with over 1,400 square feet of living space on a 5,100 square foot lot at an even more affordable price to Walteria. Also, this arguably is one of the best commutes to areas throughout Los Angeles from the South Bay.
5341 W. 123rd Street

3 bed, 2 bath, 1,602 sq. ft., 5,015 sq. ft. lot

Price Per Square Foot: $561
Above is another example of an updated three bedroom home with Thermador appliances on a great street for only $561 per square foot that closed for well under $1 million.
As for food, Del Aire is not far from some fabulous, authentic Indian and Pakastani cuisine. Residents are lucky to have Al-Watan so close by, which serves up some amazing naan, tandoori, curries, kabobs, etc. The list goes on and on for this special spot. Not to be left out, the newly revamped Proud Bird food hall has some great bites and offers a really cool experience of watching planes land at LAX.
Westchester (Westport Heights) Neighborhood in Los Angeles
Yes, Westchester, the suburb of Silicon Beach, is in the South Bay!
Westchester has been on fire over the last five years or so thanks to tech laying down roots en masse in areas like Venice, Playa Vista, and Culver City. Westchester homes give off that Manhattan Beach Tree Section vibe for half the price.
More specifically, Westport Heights seems to be the best bang for your buck which is just east of Sepulveda Blvd., but still west of the 405 and La Tijera Blvd. The elementary schools are up-and-coming, you are central for commuting (for the South Bay at least), and can catch some of that tech fire both for jobs and real estate growth.
7618 Airport Boulevard

3 bed, 1 bath, 1,134 sq. ft., 6,419 sq. ft. lot

Price Per Square Foot: $828
6038 W. 74th Street

2 bed, 1 bath, 1,257 sq. ft., 6,242 sq. ft. lot

Price Per Square Foot: $761
7852 Croydon Avenue

3 bed, 2 bath, 1,520 sq. ft., 6,098 sq. ft. lot

Price Per Square Foot: $641
These are all fabulous starter options in the red-hot Silicon Beach suburb for under $1 million. The price per square foot on these homes is expensive relative to the other neighborhoods but in ten years, these home purchases could easily turn into land value. This is a hard to miss neighborhood for an owner with a patient timeline.
Stopping through Westchester, I say make the quick drive to Dulan's in Inglewood for some of the best Soul Food in all of Los Angeles. Pick up some smothered chicken, greens, mac & cheese and take your to-go plate over to Three Weavers brewery to sip on some pints.
Bonus tip: Grab some Peach Cobbler if you are feeling naughty.
If you want to go with chain restaurants, this neighborhood has easy access to two of the best chains in all of Los Angeles. Both In-n-Out Burger and Roscoe's Chicken & Waffles are a quick drive from this location.
How can you not be drooling?
Conclusion
Too often we get caught up in the expensive real estate of the beach cities and Palos Verdes.
If you are an owner or renter in Palos Verdes, Manhattan, Redondo, or Hermosa Beach, it is smart to understand the markets discussed above to know just how affordable neighboring property can be. And oftentimes, some of these properties can really offer some of the same benefits as the expensive locations in the South Bay.
Perhaps these areas are worth considering if you are retiring and want to limit expenses? Or, maybe these are better options for a starter home than over-extending yourself to "get in" to the neighborhood? Or, this might just be a more efficient use of real estate investment capital.
The more breadth of real estate knowledge you can acquire in the South Bay as a whole, the better you will be at investing and divesting your hard earned money into property…and profit.
---